CSF Country Representatives
The headquarters of the CSF are located on the Barbados campus of the University of the West Indies. However, to effectively carry out its mission in the Region, the CSF has representatives on the ground in several other Caribbean Countries. CSF Country Representatives are individuals who report to and work closely with CSF headquarters to assist with achieving the goals of the CSF, with a focus on their country. Specifically, the roles and responsibilities of the CSF Country Representatives are to:

• Disseminate information from and about the CSF and its activities and programs to the populace
• Mobilize youth in the country, and carry out activities related to science, engineering and innovation
• Organize CSF sponsored events in their country
• Make linkages for the CSF to the political, educational and business communities in the country
• Facilitate connections for local entrepreneurs that enable expert assistance with proposal writing and business-plan development, where the assistance may be drawn from the broader CSF network, or other individuals or organizations
• Assist with fund-raising in their country
• Report monthly, at a minimum, on their activities to CSF headquarters
• Report timely events to the CSF as is necessary, for example: To provide new and/or timely information that has significant impact on the CSF
• To obtain guidance from CSF on issues or questions that arise from the populace on which the CSF does not yet have a public position
• Report quarterly on the science, engineering and innovation initiatives in their country to the CSF Board
For more information about the CSF Representative Program or if you are interested in helping the CSF with its work in your country, please contact Professor Cardinal Warde(warde.csf@gmail.com).
CSF REPRESENTATIVES (Jan 2016 – Jan 2017)
| | |
| --- | --- |
| Anguilla | Winston Duncan |
| Antigua & Barbuda | Earl Skerritt |
| Bahamas | Judith Blair |
| Barbados | Lois Oliver |
| Belize | Orlano Medina |
| Belize | Juan Vargas |
| Dominica | Trudy Christian |
| Grenada | Kemron Dufont |
| Guyana | Petal Punalall-Jetoo |
| Jamaica | Ayanna Samuels |
| St. Kitts & Nevis | Leighton Naraine |
| St.Lucia | Motielall Singh |
| St. Vincent | Amaala Muhammad |
| Trinidad & Tobago | Kethurah Williams-Howell |
Petal Punalall-Jetoo– CSF Rep for Guyana
Ms. Petal Punalall-Jetoo is the National Science Coordinator, National Centre for Educational Resource Development (NCERD), Ministry of Education, Guyana. Ms. Punalall-Jetoo is a member of the Caribbean Academy of Sciences (CAS) and is part of its teacher training team. Ms. Punalall-Jetoo is also the Guyana's country representative for the Caribbean Science Foundation (CSF). She is responsible for designing, implementing and monitoring programmes that improve K-12 science education. She introduced the Inquiry Based Science Education (IBSE) pilot project for Primary Schools in collaboration with CAS and UNESCO.
Her work in science education also covers biodiversity and climate change education. She coordinated the development of a television series that focused on Biodiversity Awareness and Climate Change in collaboration with Conservation International – Guyana. Ms. Punalall-Jetoo led the reintroduction of the use of the micro-science experiments kits for biology, chemistry and physics through collaboration with UNESCO for Guyana's secondary schools. The micro-science experiments are now being piloted at the primary level as well.
Prior to her career in science education Ms. Punalall-Jetoo worked with the Guyana Sugar Corporation Incorporated – GuySuCo as the Regional Process Technologist (Demerara). She was responsible for sugar production and quality assurance in the four raw sugar mills in the county of Demerara. In addition, Ms. Punalall-Jetoo coordinated the establishment of GuySuCo's Quality Management System which achieved ISO 9001 certification in 2005 for its Blairmont Sugar Estate. As an Associate Consultant with Delphi Consultants, Trinidad she provided the technical support that led to the establishment of the Quality Management System which is certified to ISO 9001:2008 requirements for the Guyana's flour milling company – Namilco. She is a trained lead auditor in ISO 9001 and ISO 22000.
Ayanna Samuels– CSF Rep for Jamaica
Ayanna Samuels is an ambitious, results-oriented and dedicated Information and Communication Technologies for Development (ICT4D) Professional with over eleven years of progressively responsible experience with the use of ICTs as a fulcrum for socio-economic development and poverty eradication. She holds 3 degrees from MIT comprising 2 M.Sc. degrees in Technology Policy and Aerospace Engineering and a B.Sc. in Aerospace Engineering. Ms. Samuels has steeped experience working with multi-country development projects involving management and financial oversight responsibilities, coordination of events, overseeing the start up of development initiatives and researching innovative ways ICTs can be employed to realize development goals. Ms. Samuels speaks English and French, has a wealth of international experience with proven organizational skills, has an ability to work with others in a multi-cultural environment, and harbours a goal-oriented, strong work ethic, focused on ensuring the goals of the client are exceeded.
Ayanna also positively impacts the development sphere through the provision of Technology Policy advisory services. Further, as a Technology Policy specialist, Ms. Samuels is familiar with a gamut of issues related to the regulatory and institutional frameworks of the Caribbean telecommunications sector. She also stays abreast of current sector trends in ICTs, Technology Policy and within the international development sphere. In addition to governments and industry leading private sector entities, Ms. Samuels has worked with a breadth of respected international development agencies including the World Bank, the International Development Bank, the Caribbean Association of National Telecommunications Organisations, CARICOM, the Caribbean Telecommunications Union, the International Telecommunications Union and the International Institute for Communications and Development.
Trudy Christian– CSF Rep for Dominica
Trudy Christian
attended the Convent High School where she graduated as valedictorian in 2001. She went on to attend the Dominica State College and graduated in 2003 after having pursued studies in Biology, Chemistry and Physics. Ms. Christian earned her Bachelor of Science degree in Biology (minor in Chemistry) from Midwestern State University in 2008. She received her Master of Public Health degree in 2013 from the University of the West Indies (Cave Hill campus).
Ms. Christian has been the recipient of numerous honours and awards including the BB Greever Pre-Med Scholarship awarded in 2006, the Good Neighbour scholarship awarded in Fall 2007 and the OAS post-graduate academic scholarship awarded in 2012. She is a member of Beta Beta Beta (Biological Sciences Honour Society), Gamma Sigma Epsilon (Chemistry Honour Society) and several other academic honour societies.
Ms. Christian has worked as an Integrated Science and Biology teacher at the Convent High School and as a Biology, Medical Geography and Biostatistics lecturer at the Dominica State College. She has also served as a private Mathematics tutor, a tutor with the Upward Bound Program at Midwestern State University and a Chemistry laboratory teacher's assistant in the past. She has recently gained valuable professional experience in the field of public health, working in the past year in the Health Information Unit of the Ministry of Health. Her research work includes a study published in the Women & Health journal titled "Knowledge and attitudes of cervical cancer screening among Caribbean women: a qualitative interview study from Barbados." The abstract of this study was also published in the West Indian Medical Journal. Ms. Christian is also a contributor to the Dominican health journal, Rosies and Thorns.
Amaala Muhammad– CSF Rep for St. Vincent

Ms. Amaala Muhammed is the Education Officer for science in the Curriculum Development Unit within the Ministry of Education of St. Vincent. She holds a bachelor of science degree from the University of the West Indies, Mona campus, and a masters of science in plant pathology and nematology from the University of London, Imperial College, Sillwood Park, UK.
Dr. Kethurah Williams-Howell– CSF Rep for Trinidad and Tobago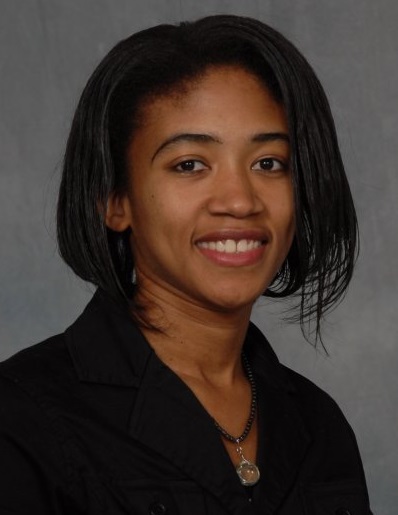 Dr. Kethurah Williams-Howell is currently the Academic Dean for the School of sciences and Technology at the University of the Southern Caribbean. She was previously the Academic Liaison for Howard University in Washington, DC. Dr. Williams-Howell received her Doctor of Philosophy degree in June 2005 in Developmental and Molecular Biology from Howard University. She also holds a Master's of Science Degree in Cell Biology from the same institution.
Dr. Williams-Howell has worked in the education sector for over a decade in many leadership roles. She has been instrumental in many innovative projects that are ongoing within education, including her institution as well the community. Some of these include acting consultant to the Prince William Academy in Woodbridge VA on their Science, Technology, Engineering and Mathematics (STEM) Curriculum Development. Also as a consultant to the University of Maryland, Dean of Education for the College Park Academy, University of Maryland, which opened in the Fall 2013. She has also created international travel programs during the summer for middle and high school students and formed collaborations with international schools on STEM projects, which resulted in conferences. She also coordinated the Solar Car Sprint Regional Competition for many years.
Dr. Williams-Howell has held many leadership positions over the years. Currently, she is: one of the Founding Board Member of the Liberia STEM School to be opened in Liberia in the fall of 2015; the Educational Foundation Liaison Officer & Leadership Development Officer of the Alpha Chapter, Nu State of the Delta Kappa Gamma International Society; an Advisory Board Member of Mentoring in Medicine (MIM) Inc. Washington, DC Chapter; and the program director for the Science Pathfinders Program in the Washington, DC metropolitan area. Previously she was: a committee member of the Howard University Undergraduate Teacher Education Development Program, a member of the National Science Teacher Association, and an honorary member of the National Nominating Committee for Junior National Young Leaders Conference.
Dr. Williams-Howell is the recipient of numerous awards including: The Academic Excellence Award in 2014; the Sheikh Zayed Teaching Award from the National Children Hospital, Washington DC in 2013; the Tom Joyner Teacher Certificate Scholarship Award in 2008; The Noyce Teacher Scholarship Award in 2009 and The Best Teacher Award, 2008.
Mr. Orlando Medinal– CSF Rep for Belize
Orlando Medina is currently the Science Curriculum Officer – Quality Assurance and Development Services, within the Belize Ministry of Education, Youth and Sports. His current post allows him to work closely with teachers in the enhancement of science education, where together they promote inquiry-based approaches to science education through the science curriculum. His passion for Science education allows him to now work with fellow educators to emphasize the vital importance of science education inside and outside of the classroom accompanied by the need for Belizean students to be more engaged in science, technology and innovation. He believes this is the only way that developing countries will be able to cope with the global challenges of today and tomorrow. "All must be able to understand the issues of environmental conservation, global energy demands; demands for food, water and other resources and the impact of climate change. We can no longer afford to be ignorant of these issues."
Prior to his appointment as Science Curriculum Officer, he served as an educator in the classroom for fifteen years at St. John's College, his alma mater. During that time he taught a wide range of Chemistry courses. His teaching experience has been mostly at the Junior College level, focusing not only on Chemistry but also courses in mathematics, biology, and environmental science. During that time he also served in other capacities as Chair of the Math and Science Department, Director of Summer Programs and Dean of Students. His teaching career then took him to the high school level where he taught chemistry and physics. While earning a Master Degree in chemistry with focus on analytical and environmental chemistry, he pursued a desire to enhance his interest in science education. This was accomplished through the earning of a Certificate in University Teaching Skills from St. Louis University, St. Louis Missouri (USA). This accomplishment allowed him to probe even further into the significant role of science education.