SPISE
Program Description: Rationale and Goals
Here, first, is a link to a video, filmed and produced by Lillie Paquette and Andrei Ivanov of the MIT Sea Grant program that describes the SPISE: Student Program for Innovation in Science and Engineering 2012. Next is a SPISE 2013 video courtesy of the Bajan Reporter: US Embassy for Barbados and the Eastern Caribbean visits SPISE 2013
The annual Student Program for Innovation in Science and Engineering (SPISE) is an intensive four-week enrichment residential summer program for gifted Caribbean high-school students who are interested in studying and exploring careers in science and engineering. The goal is to help address the low numbers of Caribbean students pursuing advanced degrees in science and engineering, and to groom the next generation of science, engineering technology and business leaders in the Region. The CSF firmly believes that the next "Google" can be started here in the Caribbean by one of these students, and just one such company would supply all the able-bodied persons in one of our smaller countries with high-paying jobs.
Students who gain admission to SPISE are among the top scholars in Science, Technology, Engineering and Math (STEM) in the Region. SPISE aims to nurture and support this kind of rare talent in our youth, and to encourage them to stay in the STEM disciplines and consider technology entrepreneurship as a career option so that opportunities for future technology job creation in the Region will not be lost. The Region needs to create more technology companies and more high-paying technology jobs that bring in foreign exchange so we do not fall further behind in the global economic race. Furthermore, since it appears that we are transferring this huge economic development responsibility to the next generation, it is imperative that we invest now in the preparation of these youngsters for the challenges ahead. A list of students by country who have participated in previous SPISE classes (2012 – 2015), their class photos, plus news and summaries of the activities of previous classes can be found in the SPISE Archives.
SPISE is one of CSF's initiatives with the long-term goal of helping to diversify the economies of the Region by stimulating more technology-based entrepreneurship within the Region. The program is based at the CSF headquarters, which are located on the Barbados campus of the University of the West Indies. Key important partners of SPISE are the University of the West Indies Cave Hill Campus, and the CXC.
SPISE Application Forms
FOR STUDENTS
Before filling out an application, be sure to read the SPISE Program Description below, as well as the Frequently Asked Questions (FAQs).
Students applying to the program will need to:
Fill out the application form below and provide all the materials requested within it. A WORD file (for electronic completion) is provided below, as well as a PDF version.
Provide the appropriate requests for recommendations below to their: (a) School Principal or Guidance Counselor, (b) a current Math Teacher, and (c) a current Science Teacher.
SPISE 2017 Student Application Form (Microsoft Word)
SPISE 2017 Student Application Form
Request for Recommendation GC or Principal.pdf
SPISE 2017 Request for Recommendation Science and Math Teachers.pdf
Applicants who move on to the second step of the admissions process may be asked to participate in an interview as part of the selection process.
FOR TEACHING ASSISTANTS
Applications for SPISE Teaching Assistants (TAs) are provided below in WORD and PDF formats. The TA positions are open until filled. TAs are expected to be familiar with the details of the program, and, therefore, before applying, should read:(a) the Program Description, (b) the Frequently Asked Questions (FAQs) above, and (c) "What SPISE Teaching Assistants should know" (at the end of the application form).
SPISE 2017 TA Application Form.doc
SPISE 2017 TA Application Form.pdf
FOR INSTRUCTORS
Applications for SPISE Instructors are provided below in WORD and PDF formats. The Instructor positions are open until filled. Instructors are expected to be familiar with the details of the program, and, therefore, before applying, should read: (a) the Program Description, (b) the Frequently Asked Questions (FAQs) above, and (c) "What SPISE Instructors should know" (at the end of the application form).
SPISE 2017 Instructor Application Form.doc
SPISE 2017 Instructor Application Form.pdf
FOR SPONSORS
Sponsors from as many different countries as possible are invited to join in support of the program. Sponsors may opt to designate support for students from specific countries. Each student is branded as a scholar of their sponsor. The cost per student is US$ 6,000 plus round-trip airfare between the student's country and Barbados. The US$ 6,000 covers student housing, meals, stipends for the instructors and teaching assistants, and partial costs of lab equipment and supplies. The CSF supplies the sponsors with interim and final updates on the performance of their students and assists the sponsor by providing reports, photos and other materials to showcase their corporate social responsibility.
SPISE Sponsors To Date
The CSF expresses its gratitude to each and every one of its SPISE sponsors and partners, for both cash and in-kind donations, since the inception of the program. The complete list of SPISE sponsors by year from 2012 to present can be viewed here.
SPISE Culture and Environment

SPISE is modeled after the well-known and highly successful MITES program at MIT ( http://oeop.mit.edu/programs/mites) for which Professor Cardinal Warde serves as the Faculty Director. Professor Warde also functions as the Faculty Director of SPISE. Dr. Dinah Sah, Chief Scientific Officer at Voyager Therapeutics, is the Director of SPISE.
SPISE strives for a balanced class of 50% girls and boys. SPISE students study university-level calculus, physics, biochemistry, entrepreneurship and humanities. In addition, they undertake hands-on, innovative experimental projects involving robotics, computer programming and electronics. The humanities (Caribbean Unity) and foreign language (Mandarin) courses are designed to sharpen the students' communication skills and to highlight the global connectedness of the world in which we live.
SPISE instructors include university professors and Dr. Tony Rossomando with students in Biochem Lab.jpg lecturers from the Region and the Diaspora, senior management professionals from leading biotechnology and pharmaceutical companies. SPISE students are also exposed to and coached by role models from the Diaspora and the Region on career paths and choices, and after SPISE, assisted with their applications to universities and to internship opportunities in research centers in the Region and abroad. These instructors and role models bring unique expertise and perspectives to the students, as well as important networking connections.
SPISE is a learning environment in which students are trained to think critically and to develop analytical and logical problem-solving approaches in several disciplines. Rote learning is discouraged. The focus is on understanding the concepts and fundamental principles in each discipline, and to gain enough mastery to apply these fundamentals to find solutions to complex problems that have not been encountered before. Grades, though important, are not emphasized. Similarly, although arriving at the correct answer to a given problem is important, it is the analytical and logical thinking, the methodology and the problem-solving approach that are most highly valued, as getting these right will lead to correct answers every time. Students are judged on their self-improvement during the program.
SPISE provides a risk-free learning environment in which students are encouraged to have no fear, insecurity or hesitation in asking questions. That is, there is no penalty for statements such as "I do not know" or "I do not understand", and there is no such thing as a stupid question. Since there is no competition between students, students naturally help each other to learn and understand the material, and are continually encouraged to do so.
Teamwork is yet another essential component of the SPISE experience, as all of the projects (robotics, electronics, computer programming, and entrepreneurship) require students to work in groups, and to design and fabricate modules, components and systems that will be showcased to the public at the end of the program.Each student participates in two of the project areas with the understanding that the project goal, and not individual egos, must take top priority. Furthermore, we teach efficient study habits and time-management skills, so that the students learn how to make the best use of their time. Such skills will be particularly useful for handling the heavy course and work load in university life and life in general. Thus, the students build self-confidence in their ability to be successful in a highly demanding academic environment.
SPISE is NOT a summer camp. Students in the SPISE are intensively immersed in science, engineering, entrepreneurship, the humanities and Mandarin for all 4 weeks, and have about 5 hours of homework each
night. No classes can be dropped, and students are expected to stay in the SPISE for the entire duration of the program. Each student is challenged just outside his/her comfort zone, and expected to give his/her best effort. The core courses (calculus, physics and biochemistry) have diagnostic exams at the beginning and the end of the program so that the Instructors can measure their teaching effectiveness as well as the improvement of each student. Teaching Assistants reside in the dormitories with the students so that assistance with coursework and general supervision are available 24/7 to the young students.
Consistent with the mission of the CSF to assist with the diversification of the economy of Caribbean countries, SPISE by design is more geared to assisting students interested in science and engineering than students interested in other disciplines such as medicine. Thus, while students interested in pursuing careers in medicine may apply, admissions preference will be given to students interested in science and engineering careers, all other factors being equal. As shown in the Table below, SPISE has served 85 students from 15 Caribbean territories since 2012.
SPISE culminates on the last day of the program with student project presentations that are open to the public. For the robotics, electronics and computer programming projects, each team first gives an oral presentation of their hands-on project before demonstrating the workings of their project. Entrepreneurship is also showcased during the presentations in which student teams pitch their business plans to the audience for investment. At this final event, student teams also get to show off their skills with Mandarin before the public. Sponsors and parents are urged to attend and cheer for their students.
SPISE Students by Country 2012-2017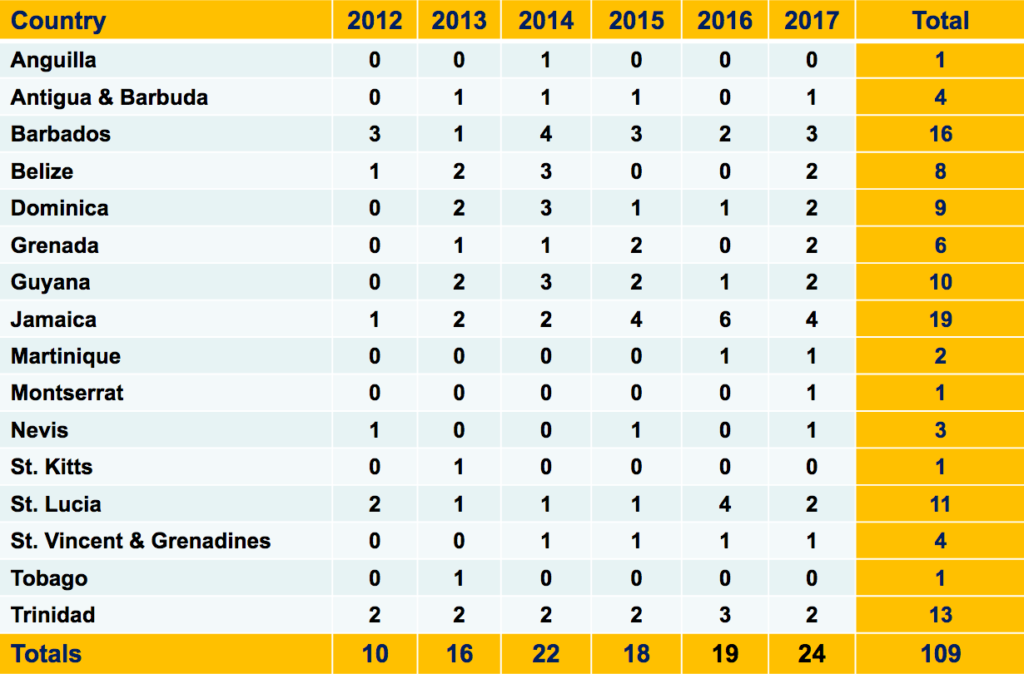 Student Selection Process
Applications are first triaged for noncompliance with the eligibility criteria stated above in this SPISE Program Description (age, citizenship, missing application items such as letters of recommendation, essays, etc).
Applications meeting the eligibility criteria are then sent off to reviewers (about 30 in total) residing in the Caribbean Region and the Diaspora. These individuals are typically university professors and lecturers, and business professionals.
Reviewers are briefed by the CSF Director or the CSF Assistant Director and given written guidelines as to the characteristics that the CSF is looking for in the ideal SPISE student. Reviewers are asked to rank the candidates on a scale of 1 to 4 using the guidelines and the criteria in the SPISE Program Description above.
Reviewers are not allowed to review applications from students in their country, or students who they know, or students whose parents they know. In short, we do not allow parents, schools or even sponsors to be involved in choosing SPISE students for admission to the program.
Using the above criteria as a guide, the reviewers are divided into subcommittees of about 3-6 persons each, with each subcommittee reading the same set of applications. That is, each student is scored by at least 3 different reviewers.
Each subcommittee is asked to collaborate and recommend a roughly 50/50 mix of boys and girls and to arrive at a consensus of their top 4 candidates.
Using the list of top-ranked students provided by the subcommittees, students are then matched with sponsors from their country, and admitted to the SPISE. Each admitted student is branded as the scholar of his/her sponsor.
Students recommended for admission who do not yet have sponsors are wait-listed pending sponsorship.
If there are too many sponsors from a particular country, the CSF will request that a sponsor(s) consider supporting a student from a different country.
The exact size of the final SPISE class depends on how many sponsors commit to support before the SPISE starts.
SPISE Brochures
For anyone wishing to help us advertise the SPISE program, please find below three documents that you may circulate electronically or print out in hard copy. Please feel free to print and distribute as many copies as you need. We thank you for your efforts!
A. One Page Summary
SPISE One Page Summary.pdf
B. Print Version of SPISE Brochure
This three-panel print version of the SPISE Brochure is designed for double side printing on one sheet of letter-size paper followed by two folds to convert it to a hard copy of the brochure.
SPISE Brochure Three-Panel Print Version.pdf>
C. Screen-friendly Version of SPISE Brochure
This screen-friendly version of the SPISE Brochure contains the same information as the above print version, except that the panels are in the normal order.
SPISE Brochure On-Screen Version.pdf
SPISE 2017 in the News
SPISE_2017_Largest_class_graduates_Press_Release_13AUG17
SPISE_2017_Largest_Class_Barbados-Today_12Aug17
SPISE_a_success_Barbados-Advocate_12Aug17

SPISE_SPISE_Passes_100th_Student_Milestone_Press-Release_14Jul17

Further Information
Please contact Prof. Cardinal Warde (warde.csf@gmail.com or 1-617-699-1281) with your questions about the program and about student sponsorship. Also, please be sure to read the Frequently Asked Questions (FAQs) above for further details.