CSF Country Representatives
Overview
The headquarters of the CSF are located on the Barbados campus of the University of the West Indies. However, to effectively carry out its mission in the Region, the CSF has representatives on the ground in several other Caribbean Countries. CSF Country Representatives are individuals who report to and work closely with CSF headquarters to assist with achieving the goals of the CSF, with a focus on their country. Specifically, the roles and responsibilities of the CSF Country Representatives may include one or more of:
•   Disseminate information from and about the CSF and its activities and programs to the populace
•   Mobilize youth in the country, and carry out activities related to science, engineering and innovation
•   Organize CSF sponsored events in their country
•   Make linkages for the CSF to the political, educational and business communities in the country
•   Facilitate connections for local entrepreneurs that enable expert assistance with proposal writing and business-plan development, where the assistance may be drawn from the broader CSF network, or other individuals or organizations
•   Assist with fund-raising in their country
•   Report monthly, at a minimum, on their activities to CSF headquarters
•   Report timely events to the CSF as is necessary, for example: To provide new and/or timely information that has significant impact on the CSF
•   To obtain guidance from CSF on issues or questions that arise from the populace on which the CSF does not yet have a public position
•   Report quarterly on the science, engineering and innovation initiatives in their country to the CSF Board
For more information about the CSF Representative Program or if you are interested in helping the CSF with its work in your country, please contact Professor Cardinal Warde (warde.csf@gmail.com).
Current CSF Representatives
| | |
| --- | --- |
| Belize | Orlando Medina |
| Dominica | Veronne Nicholas |
| Grenada | Lorraine DeAllie |
| Jamaica | Ayanna Samuels |
| St. Lucia | Natoya Cassius |
| St. Vincent | Amaala Muhammad |
| Trinidad & Tobago | Laura Garavito, Lauren Marcano-Jackson |
Natoya Cassius – CSF Rep for St. Lucia
Natoya Cassius is currently a Universal Service Fund Project Assistant for the National Telecommunications Regulatory Commission (NTRC) in Saint Lucia. She holds a Bachelor's degree in Management Studies from the University of the West Indies, and a Master's Degree in Contemporary Diplomacy from the University of Malta.












Lorraine DeAllie – CSF Rep for Grenada
Lorraine DeAllie is a Curriculum Officer – Science/Mathematics for Grenada. She holds a Bachelor's degree in Natural Sciences from St. George's University, and a Master's degree in Science Education from Georgia State University.














Laura Garavito – CSF Rep for Trinidad and Tobago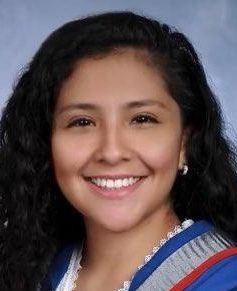 Laura Garavito is a past SPISE graduate and a current chemistry teacher in Trinidad. She has a passion for STEM education and advocates for youth interest in STEM oriented jobs by imparting them with an exposure to the opportunities that exist in science and engineering for regional development. She holds a Bachelor's degree in Chemical and Process Engineering from the University of the West Indies and will pursue a Master's in engineering.











Lauren Marcano-Jackson – CSF Rep for Trinidad & Tobago
Lauren Marcano-Jackson has been in the field of education for over fifteen years. She built a strong foundation in her field by attaining a Master's Degree in Education and a Post Graduate Diploma in Educational Administration. Her specialisation in Health Promotion exposed her to a community approach to education. She gained useful skills in establishing healthy communities by communicating effectively and organising activities, which brought persons closer together through education and health.
She has a passion for advocacy. Her focus has always been supporting young people, particularly those in difficult circumstances. Lauren has built a network with Tertiary level organisations, business institutions and individuals to ensure her students gain valuable insight into fields available to them when they leave Secondary School. Her strong communication skills and people centred approach allows her to build meaningful relationships within her professional and personal communities. She recently joined the Community Emergency Response Team in her community to assist members in times of natural disasters. Trinidad is vulnerable like other countries to heavy rainfall and flooding and Lauren saw the need to assist her neighbours and the national community during difficult times.




Orlando Medina – CSF Rep for Belize
Orlando Medina has a passion for science education and promotes the vital importance of science education inside and outside of the classroom accompanied by the need for Belizean students to be more engaged in science, technology and innovation. He believes that this is the only way that developing countries will be able to cope with the global challenges of today and tomorrow. "All must be able to understand the issues of environmental conservation, global energy demands; demands for food, water and other resources and the impact of climate change. We can no longer afford to be ignorant of these issues."
Orlando Medina is currently Director of Operations at St. John's College. Prior to this appointment, he was the Science Curriculum Officer – Quality Assurance and Development Services, within the Belize Ministry of Education, Youth and Sports, where he worked closely with teachers in the enhancement of science education, promoting inquiry-based approaches to science education through the science curriculum.
Prior to his appointment as Science Curriculum Officer, he served as an educator in the classroom for fifteen years at St. John's College, his alma mater. During that time he taught a wide range of Chemistry courses. His teaching experience has been mostly at the Junior College level, focusing not only on Chemistry but also courses in mathematics, biology, and environmental science. During that time he also served in other capacities as Chair of the Math and Science Department, Director of Summer Programs and Dean of Students. His teaching career then took him to the high school level where he taught chemistry and physics. While earning a Master Degree in chemistry with focus on analytical and environmental chemistry, he pursued a desire to enhance his interest in science education. This was accomplished through the earning of a Certificate in University Teaching Skills from St. Louis University, St. Louis Missouri (USA). This accomplishment allowed him to probe even further into the significant role of science education.



Amaala Muhammad – CSF Rep for St. Vincent
Amaala Muhammed is the Education Officer for science in the Curriculum Development Unit within the Ministry of Education of St. Vincent. She holds a bachelor of science degree from the University of the West Indies, Mona campus, and a masters of science in plant pathology and nematology from the University of London, Imperial College, Sillwood Park, UK.










Veronne Nicholas – CSF Rep for Dominica
Veronne Nicholas is currently a Lecturer and Head of the Computer Science Department at Dominica State College. She holds a Bachelor's degree in Computer Science from the University of West Indies.













Ayanna Samuels – CSF Rep for Jamaica
Ayanna Samuels is an ambitious, results-oriented and dedicated Information and Communication Technologies for Development (ICT4D) Professional with over eleven years of progressively responsible experience with the use of ICTs as a fulcrum for socio-economic development and poverty eradication. She holds three degrees from MIT comprising two M.Sc. degrees in Technology Policy and Aerospace Engineering and a B.Sc. in Aerospace Engineering. Ms. Samuels has steeped experience working with multi-country development projects involving management and financial oversight responsibilities, coordination of events, overseeing the start up of development initiatives and researching innovative ways ICTs can be employed to realize development goals. Ms. Samuels speaks English and French, has a wealth of international experience with proven organizational skills, has an ability to work with others in a multi-cultural environment, and harbours a goal-oriented, strong work ethic, focused on ensuring the goals of the client are exceeded.
Ayanna also positively impacts the development sphere through the provision of Technology Policy advisory services. Further, as a Technology Policy specialist, Ms. Samuels is familiar with a gamut of issues related to the regulatory and institutional frameworks of the Caribbean telecommunications sector. She also stays abreast of current sector trends in ICTs, Technology Policy and within the international development sphere. In addition to governments and industry leading private sector entities, Ms. Samuels has worked with a breadth of respected international development agencies including the World Bank, the International Development Bank, the Caribbean Association of National Telecommunications Organisations, CARICOM, the Caribbean Telecommunications Union, the International Telecommunications Union and the International Institute for Communications and Development.